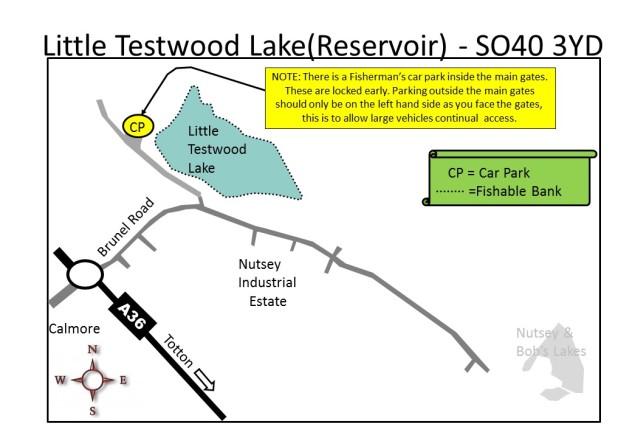 Please Note: if cars are left in Anglers car park after hours, they will be locked in. We have no way of opening the gate and therefore you will have to wait until opening hours before your car is released. YOU HAVE BEEN WARNED!
Rules
PLEASE NOTE THIS WATER IS SHARED
1. Only members of Southampton Piscatorial Society, Test Valley Anglers or anglers holding a guest or day ticket may fish.
2. The fishery will be open from 16th June until 14th March inclusive. Fishing at any other time is strictly forbidden.
3. Access times: main gates are open 8am to 5pm during British Summer Time and 8am to 4pm the rest of the year. Outside these times pedestrian access only will be available.
4. Anglers under sixteen years of age may only fish when accompanied by an adult angler.
5. No angler shall leave baited tackle unattended, in or out of the water.
6. Take ALL litter home, whether or not it's yours.
7. Groundbaiting is forbidden. Swimfeeder or loose feeding only is permitted.
8. No night fishing. Fishing is only permitted during daylight hours.
9. Unhooking mats must be used for sizeable fish. Barbless hooks only may be used. Keepnets should not normally be used.
10. All fish must be returned to the water.
In addition to the above rules, all normal club rules apply.
Very occasionally, Southern Water will need to lower the water level of the lake. When this occurs fishing may be impossible. This is unavoidable and a condition of our lease.
Car Parking out of site open hours, same as parking for Nutsey Blackwater e.g. Brunel Road or Industrial Estate.