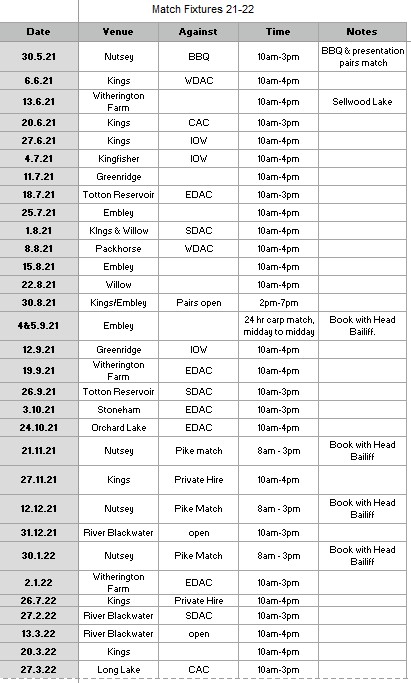 IMPORTANT MATCH UPDATE AS OF 21:00 12TH AUGUST 2021
With the on-going low oxygen levels at Embley Lake there will be no further matches on the venue this season to avoid undue stress on the fish.
Unfortunately this means that the Bank Holiday pairs match will be cancelled so both Embley and Kings will be available for club members to fish (subject to Embley being open).
Sunday 18th August match originally scheduled for Embley will be moved to Kings Lake however the lake will not be closed and the early pegs will be available for pleasure anglers.
Thank you for your cooperation at this difficult time
Andrew Palmer
Match Secretary
Match secretary: Andy Palmer – 01794 9450 0908 / 0753 969 3983
Charity Match Bookings: Robbie Thompson – 07713 136928
Pike Matches: Glen Tracey – 07557 282893
Match Fixtures 2021 2022 (PDF)
Match Fixtures 2021 2022 (excel)